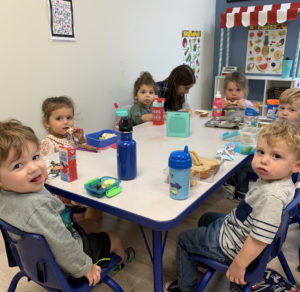 What goes into your child's body has a HUGE impact on his or her ability to thrive, sleep, manage big emotions and even transition from one activity to another or one place to another. If her diet is missing critical nutrients, the seemingly normal tasks of everyday life become daunting and almost impossible. Picky eaters are even more likely to be missing core nutrients for emotional balance.
In this workshop, Danielle Shea Tan, author of 52 Small Changes for the Family and Functional Family Nutritionist, will teach parents the science-behind how food impacts mood and behavior in children and share simple strategies for fueling your family with nutrients to support a healthy, balanced emotional life. Join us for an engaging discussion that is sure to help your children tackle life with vigor, clarity and calm.
Don't see a signup button? Feel free to call the Center Monday–Friday, 9:00 – 2:00, at 781-347-3189 and we can help you find a class.
Over The Moon will be closed Veteran's Day, Thanksgiving and Black Friday.
At Checkout, please click for your purchase ONLY ONCE!