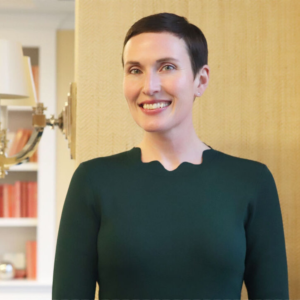 Beth Summers,
EEC
Beth teaches in our Toddler Playschool classroom.
Beth is so excited to be back in the classroom after taking time off to be with her own young children. Beth received her Bachelor of Arts from Connecticut College. She continued her studies at the Massachusetts Professional School of Psychology to become a child counselor before leaving an deciding that teaching young children was truly her passion. She earned her EEC certification while teaching in toddler classrooms, preschool, and pre-k at A to Z childcare. During her time there she honed an enthusiastic and nurturing teaching style with a love of curriculum development that supports each unique child. 
She next accepted a job teaching kindergarten at the Learning Project Elementary School in Boston. Teaching various aged children in early childhood education Beth has deepened her knowledge and understanding of child development and loves to help each child grow to their full potential. 
While working in the home as a stay-at-home parent Beth has also volunteered her time on the Hingham Nursery School Board of Directors and the Runway for Recovery Board. Runway for Recovery is an organization that celebrates woman who are survivors of breast cancer and provides financial support for families who have lost a parent to breast cancer. In all of her efforts she loves to support children and families. 
Beth is a lifelong resident of Hingham and lives there with her husband, her three children and an adorable puppy named Max. In her free time you can find her running, cooking, skiing, traveling (when possible!) and playing at the beach with her children. She is so excited to be with your children at Over the Moon Parenti