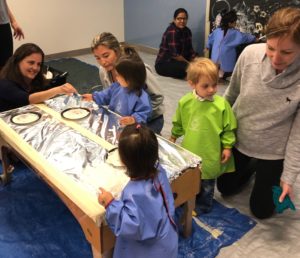 Sensory fun for your little one! This sensory exploration class will provide you with lots of baby-safe ideas for hands-on exploring and tactile investigating.  Babies will enjoy exploring different textures (sticky, soft, scratchy!), safe-to-taste paints & doughs, water, instruments and more.  This class combines music and movement, followed by free-play among several sensory stations which all relate to the day's theme. Have fun watching your little one get messy in this class! Please dress accordingly. Some of this sessions exciting themes include: Apple of My Eye, Building Blocks, Little Pumpkins, and Playful Puppies.
*Due to the nature of this class and the materials used, we are not able to accommodate all food allergies and sensitivities. Please contact us with question
Don't see a signup button? Feel free to call the Center Monday–Friday, 9:00 – 2:00, at 781-347-3189 and we can help you find a class.
Over The Moon's Norwell Center will be closed Dec. 21 through Jan. 1 for the holidays except for pre-registered camp days. Enjoy the season.
At Checkout, please click for your purchase ONLY ONCE!