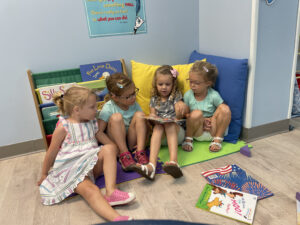 Calling all little book worms! Did you know that children who learn to read early tend to be those who have a variety of books and have been taught to value them? Did you also know that shared reading and positive attitudes toward literacy promote early literacy skills?
Each session focuses on 4 children's storybooks. We will spend two weeks exploring each book. Children will have fun with peers while they actively listen to a story and engage in developmental play activities that relate to the book's theme. Sensory art, group games, music & movement will be enjoyed while strengthening early literacy, language, motor, and social skills. This session's books will be: Bear Snores On, Snowmen at Night, Mouse Paint, and Llama llama I love You.
DON'T SEE A SIGNUP BUTTON? Email us at Info@OverTheMoonParenting.com and we can help you find a class.
AT CHECKOUT, PLEASE CLICK FOR YOUR PURCHASE ONLY ONCE!