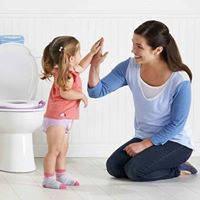 It's potty time! Whether you have tried to potty train your child in the past or this is your first attempt at what can be a trying process, we will provide you with strategies and support to successfully make the transition from diapers to big kid underwear!
There will be plenty of time for questions and discussion. Our goal is for parents to leave this workshop feeling knowledgeable, ready and excited to teach their child to use the potty!
Zoom video conferencing will be used for this virtual workshop. 24 hours before the workshop, you will receive an email with your Zoom link.
Topics covered
Review toilet training norms and evidence-based approaches
Discuss signs of readiness
Break down the process of several popular approaches step-by-step, paying attention to each child's unique needs
Discuss common potty training setbacks and how to troubleshoot
Over the Moon Parenting Center – Norwell
Don't see a signup button? Feel free to call the Center Monday–Friday, 9:00 – 2:00, at 781-347-3189 and we can help you find a class.
At Checkout, please click for your purchase ONLY ONCE!