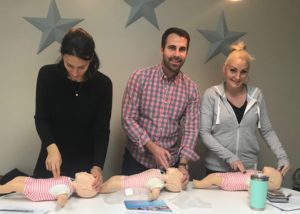 This American Heart Association CPR certification class teaches CPR and foreign body airway obstruction for infants, children and adults, and provides instruction on automated external defibrillator (AED) use. This course is approved by the Office of Child Care Services and is appropriate for daycare providers, nannies, lifeguards and anyone whose job requires them to respond to cardiac emergencies. Participants will receive official certification from the American Heart Association, which is good for two years. Open to everyone, and located in Norwell, with easy access from anywhere on the south shore. We also offer Infant and Child CPR classes, and a Newborn Care Class for Boston Area parents – check them out, too!
PRIVATE CLASSES ONLY.  YOU MUST CALL TO SCHEDULE. (781-347-3189, M-F, 9 am to 2 pm)
Duration: 2.5 – 3 hours
Fee:  $ 98/ AHA CPR certification per person
Over the Moon Parenting Center - Norwell only
Don't see a signup button? Feel free to call the Center Monday–Friday, 9:00 – 2:00, at 781-347-3189 and we can help you find a class.
At Checkout, please click for your purchase ONLY ONCE!