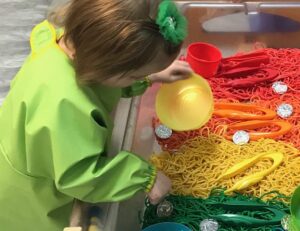 The third class in our child development and parenting series, Moon Walkers is for our newest and youngest toddlers!  Crawling, cruising, or toddling, these little girls and guys will have a ball seeing their pals, exploring new and exciting sensory materials and interacting with their caregivers.  Watch as your little one begins to imitate actions in familiar circle-time songs, follow simple directions and anticipate what's coming next! Topics covered include: transitioning from two naps to one, picky eating, positive discipline, tantrums and language development. With multiple learning stations to explore, this is the perfect class for your amazing, busy, toddler! This class may be repeated.*
*New Health and Safety Updates August 2020:  This in-person class will still offer ALL the great child development information, parenting discussions and FUN activities, but now, with a smaller class enrollment size.  The maximum enrollment number per class is 6 children with one caregiver each. There will also be new, creative activities for the children encouraging them to spread out, offering more space for social distancing.  This class will end 10 minutes earlier to give us more time to clean between classes. These are just some of the changes we have made to enhance the health and safety of all.  To see our Updated Summary of Health and Safety Plans or to see our complete Health and Safety Plans or if you have any questions, please email us at Info@OverTheMoonParenting.com.
Over the Moon Parenting Center - Norwell
DON'T SEE A SIGNUP BUTTON? Feel free to call the center Monday–Friday, 9:00 – 2:00, at 781-347-3189 and we can help you find a class.
AT CHECKOUT, PLEASE CLICK FOR YOUR PURCHASE ONLY ONCE!