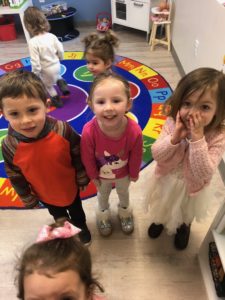 Enrollment takes place all year as long as there is space in a class.
Call to find out what days are available.
To secure your child's spot in one of our 2019 – 2020 Toddler Playschool days, select the pink 'Sign Up' button (a $65 non-refundable registration fee).  We will call you by the next business day to confirm your registration, answer any questions and review your payment plan.
Monthly payment is due on the 15th day of the preceding  month. (Mondays = $195/month, Tuesdays = $210/month, Wednesday = $210/month, Thursday = $210, and Friday = $210/month).
Typical Daily Schedule:
9:00- 10:00 am: Drop Off / Free Play / Clean Up (Sensory, Fine Motor)
(Coloring, Play-doh, Stamps, Markers, Stickers, and Crayons)
10:00 – 10:30 am: Studio Time  Movement/Music (Gross Motor Skills)
(Use instruments: Shakers and Sticks)
10:30 – 11:00 am: Arts and Craft and Play
(Craft to go with the Theme of the Week)
11:00 – 11:30 am: Circle Time/ wash hands
(Hello Song, Hello to Friends, Weather, Colors, Shapes, ABC's and 123's)
11:30 – 12:00 pm: Lunch (nut-free lunch from home)
12:00 pm: Pick up
*This is a tentative schedule. We will change to fit the needs of each class!
Over The Moon Parenting's Toddler Playschool, is an independent, privately owned program.   We are not licensed by the MA Department of Early Education & Care however, our Playschool teachers are all MA Early Education Care Certified.
Tuesdays
Wednesdays
Thursdays
Fridays
Don't see a signup button? Feel free to call the center Monday–Friday, 9:00 – 2:00, at 781-347-3189 and we can help you find a class.
Over The Moon's Norwell Center will be closed Dec. 21 through Jan. 1 for the holidays except for pre-registered camp days. Enjoy the season.
At Checkout, please click for your purchase ONLY ONCE!