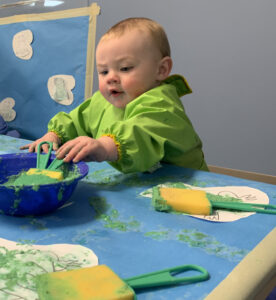 Sensory fun for your little one! This sensory exploration class will provide you with lots of baby-safe ideas for hands-on exploring and tactile investigating.  Babies will enjoy exploring different textures (sticky, soft, scratchy!), safe-to-taste paints & doughs, water, instruments and more.  This class combines music and movement, followed by your own individual sensory station which all relate to the day's theme. Have fun watching your little one get messy in this class! Please dress accordingly.
*Due to the nature of this class and the materials used, we are not able to accommodate all food allergies and sensitivities. Please contact us with question
DON'T SEE A SIGNUP BUTTON? Feel free to call the center Monday–Friday, 9:00 – 2:00, at 781-347-3189 and we can help you find a class.
AT CHECKOUT, PLEASE CLICK FOR YOUR PURCHASE ONLY ONCE!