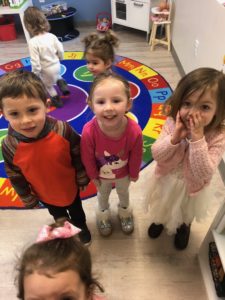 Drop-Off Toddler Playschool is for your 2 or 3 year old. Meeting once weekly for three hours your children can explore art, music, movement and their minds! This is a great way for your little ones to experience a morning on their own, while building confidence and independence. Concerned about your toddler not being potty trained? No problem! There are no restrictions in our Toddler Playschool.
CALL for availability and prorated pricing for the remainder of the 2020 – 2021 school year. 781-347-3189
2020/2021 School year:
Monday: 9/14/20-6/21/21
Tuesday: 9/8/20-6/22/21
Wednesday:9/9/20-6/23/21
Thursday: 9/10/20-6/24/21
Friday: 9/11/20-6/25/21
Typical Daily Schedule:
9:00- 10:00 am: Drop Off / Free Play / Clean Up (Sensory, Fine Motor)
(Coloring, Play-doh, Stamps, Markers, Stickers, and Crayons)
10:00 – 10:30 am: Studio Time  Movement/Music (Gross Motor Skills)
(Use instruments: Shakers and Sticks)
10:30 – 11:00 am: Arts and Craft and Play
(Craft to go with the Theme of the Week)
11:00 – 11:30 am: Circle Time/ wash hands
(Hello Song, Hello to Friends, Weather, Colors, Shapes, ABC's and 123's)
11:30 – 12:00 pm: Snack
12:00 pm: Pick up
*This is a tentative schedule. We will change to fit the needs of each class!
Over The Moon Parenting's Toddler Playschool, is an independent, privately owned program.   We are not licensed by the MA Department of Early Education and Care; however, our Playschool teacher is MA Early Education Care Certified.
DON'T SEE A SIGNUP BUTTON? Feel free to call the center Monday–Friday, 9:00 – 2:00, at 781-347-3189 and we can help you find a class.
AT CHECKOUT, PLEASE CLICK FOR YOUR PURCHASE ONLY ONCE!