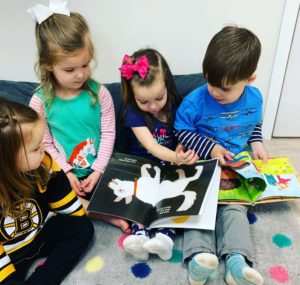 This will be a combination Book Club and Art class.  Did you know that children who learn to read early tend to be those who have a variety of books and have been taught to value them?
Children will have fun with peers while they actively listen to a story and engage in developmental play activities that relate to the book's theme.  Thoughtfully planned sensory art projects, group games, and movement & music time will strengthen early literacy, language, motor, and social skills.
Early Spring session will run 3/2-4/27; skips 4/20.
Week 1 & 2- Chicka Chicka Boom Boom by Bill Martin Jr. and John Archambault
Week 3 & 4- When Spring Comes by Kevin Henkes
Week 5 & 6- Let It Rain by Maryann Cocoa-Leffler
Week 7 & 8- Little Cloud by Eric Carle
Over the Moon Parenting Center - Norwell
DON'T SEE A SIGNUP BUTTON? Feel free to call the center Monday–Friday, 9:00 – 2:00, at 781-347-3189 and we can help you find a class.
AT CHECKOUT, PLEASE CLICK FOR YOUR PURCHASE ONLY ONCE!