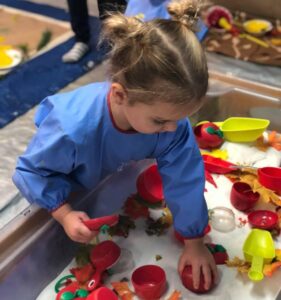 DECEMBER theme will be HOLIDAY FUN. 
This preschool enrichment drop-off series invites your little one to investigate the world! Each week they will enjoy  developmentally appropriate literacy, sensory play, art and STEM activities!  Children will share ideas in a group, explore and gather information through hands-on play, draw and create art, experiment and write about their findings.  We will then come together as a group to reflect upon all they learned!
1 hour 30 minute, Drop-Off program, all supplies included. $40 per class
12/3- GINGERBREAD- Gingerbread play doh, cookie cutter art, design your own gingerbread man, and cutting practice.
Book: Gingerbread Man
12/10- PEPPERMINT SNOW- Make a snow globe, peppermint slime, candy cane painting, red & white sensory bin.
Book: Snowman At Night
12/17- SANTA'S WORKSHOP- Make reindeer food, Christmas tree sensory table, fine motor tree decorating, Christmas play doh, and wear your holiday pajamas! 
Book: Dream Snow
DON'T SEE A SIGNUP BUTTON? Feel free to call the center Monday–Friday, 9:00 – 2:00, at 781-347-3189 and we can help you find a class.
AT CHECKOUT, PLEASE CLICK FOR YOUR PURCHASE ONLY ONCE!