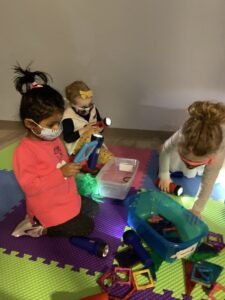 REGISTRATION OPENS MONDAY, 2/1/21
NEW FOR 2021/2022 School Year!
1 hour and 30 minute Preschool (Drop Off) Class.
Registration is for one day a week:
3 year old class (2.9 up to 4 years old) available Monday, Wednesday or Friday – 12:30 pm to 2 pm.
(2 day a week option available for only Monday and Friday. Call to inquire.)
4 and 5 year old class available Tuesday or Thursday – 12:30 pm to 2 pm.
This preschool enrichment drop-off series invites your little one to investigate the world! Each week they will enjoy developmentally appropriate literacy, sensory play, art and STEM activities! They will have opportunities to strengthen both their fine motor and gross motor skills. Children will share ideas in a group, explore and gather information through hands-on play, draw and create art, experiment and write about their findings. We will then come together as a group to reflect upon all they learned!
These classes are meant as supplemental learning opportunities, in addition to your child's preschool classes.
Do you feel your child would benefit from additional "hands-on" learning experiences? OR Do you feel your child could benefit from extra time to work on skills taught in preschool?
Either way these small enrichment classes will be the perfect "fun" compliment to their preschool program!
1 hour and 30 minute, Drop-Off classes, all supplies included.
MONDAYS: $150/month
TUESDAYS, WEDNESDAYS, THURSDAYS OR FRIDAYS: $160/month