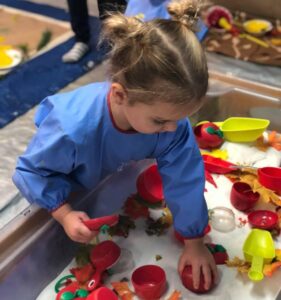 Older toddlers in our Discoverers class have fun while they practice following directions, using simple phrases, making requests and taking turns.  At our play-based learning stations, children will paint with new and interesting tools, play with water, put on puppet shows, balance on river stones and much, much more! Topics covered include nap resisting, bedtime stalling, potty training, tantrums, discipline, aggressive behaviors and more.  With new activities and songs each session, this is a class you can enjoy all year long!
*New Health and Safety Updates August 2020:  This in-person class will still offer ALL the great child development information, parenting discussions and FUN activities, but now, with a smaller class enrollment size.  The maximum enrollment number per class is 6 children with one caregiver each. There will also be new, creative activities for the children encouraging them to spread out, offering more space for social distancing.  This class will end 10 minutes earlier to give us more time to clean between classes. These are just some of the changes we have made to enhance the health and safety of all.  To see our Updated Summary of Health and Safety Plans or to see our complete Health and Safety Plans or if you have any questions, please email us at Info@OverTheMoonParenting.com.
Don't see a signup button?  Email us at Info@OverTheMoonParenting.com and we can help you find a class.
At Checkout, please click for your purchase ONLY ONCE!