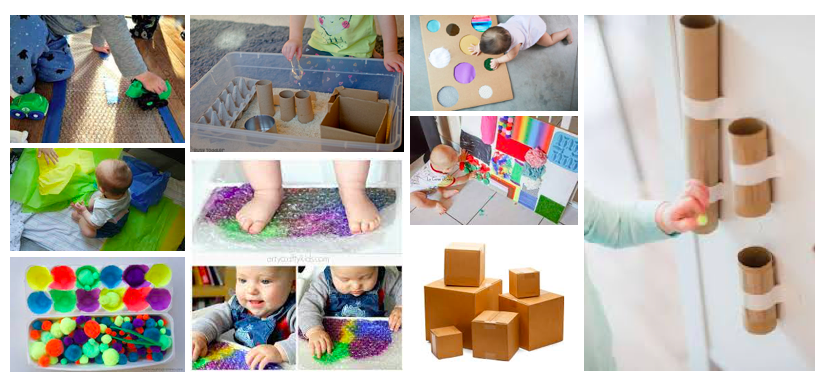 Recycling Sensory Play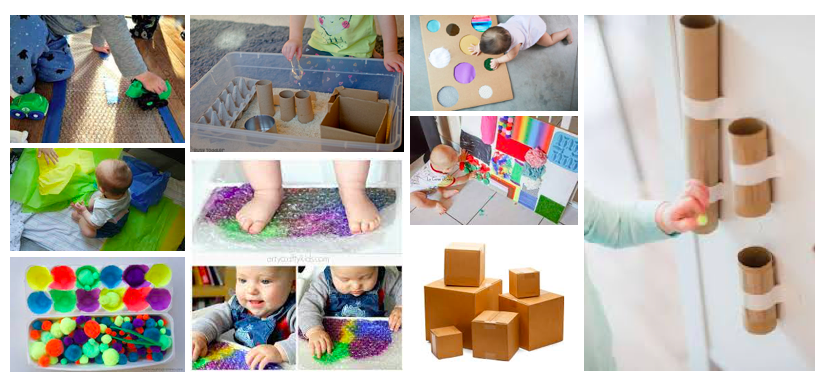 Sensory bins are always fun for your little one – but you don't have to buy anything to put in them. Here are some easy recycled materials for your child to explore. Always supervise sensory play and crafts.
Save your toilet paper rolls, paper towel rolls, egg cartons, plastic bottles, cardboard boxes, bubble wrap and other safe materials.
Tape a tube to the wall low enough that your little one could drop items such as large pom poms through.
Make rain sticks by filling a tube with rice and using duct tape to cover the ends.
Tape bubble wrap to the ground and let them explore the texture and sound it makes when it pops.
Use egg cartons for sorting and crafts.
Use plastic bottles of different sizes for practice of fine motor skills such as putting popsicle sticks or q-tips inside and then dumping them out.
Put different items in a cardboard box and work on receptive  language skills by asking them to take out the "red ball" until you have gone through all of the items in the box.
Outside let them explore paint with different natural materials such as small pine branches.
Fill a sensory bin with water and other items and empty the water into your garden after playing.
Many companies send packages wrapped in  large pieces of paper and/or tissue paper. Use the paper to have your little one make a large mural. Let me crinkle and rip up the tissue paper for some sensory fun.
Fill a sensory bin with the items listed above and add rice, sand, beans and let your little one explore and figure out what is inside.
Make an ocean sensory bin with water, animals, and some items that do not belong in the ocean such as yogurt cups and straws. Have your little one sort what does not belong in the ocean.
Different size boxes taped closed can be great for stacking.
"The Earth is more important than money, and if we want our children to have a clean place to live, we need to do our part now. We can't buy our children a new planet." -Catherine Norton