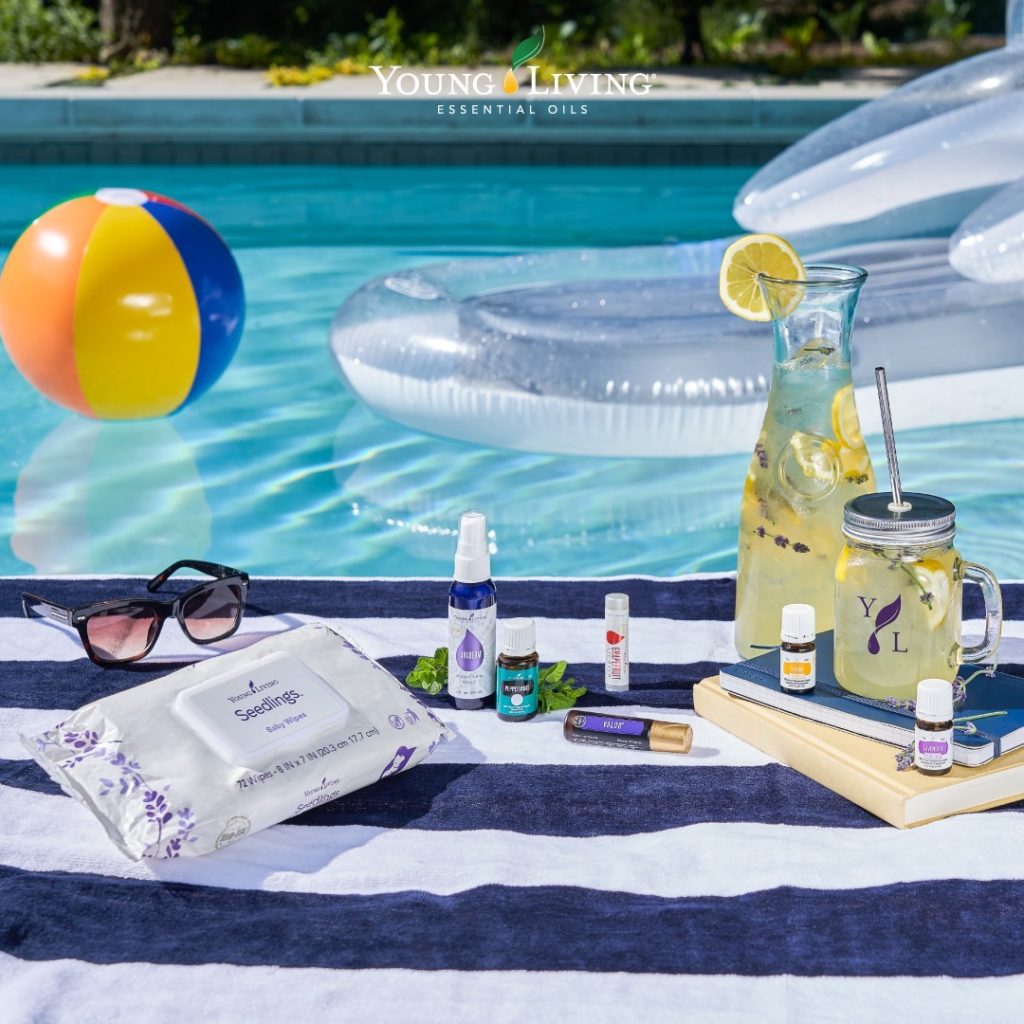 1. Sunscreen
Made with ingredients you can feel good about, Young Living's Mineral Sunscreen Lotion provides protection against UVA and UVB rays without harsh chemical ingredients. With hypoallergenic ingredients and skin-loving essential oils including Helichrysum, Carrot Seed, and Sacred Frankincense, this gentle, reef-safe sunscreen rubs on smoothly, so you can effortlessly apply it when you're outdoors.
2. Insect Repellent
Before you buy an insect repellent at the store, check to see if it contains DEET. If it does, you're going to want to put it back on the shelf. DEET is a registered pesticide, and a member of the toluene chemical family. Toluene is an organic solvent used in rubber, plastic cements, and paint removers. DEET is absorbed through the skin and passes through the blood. DEET-free insect repellent is tested to repel mosquitoes, ticks, and fleas using 100% naturally derived, plant -based ingredients. It smells great and goes on smooth!
3. Citrus
Summer and citrus go hand and hand. Grab a citrus oil like orange, grapefruit, lemon, or lime and add it to your water bottle for a refreshing drink on the go. Young Living offers a whole line of Essential Oils called the Vitality Line which are safe for ingestion.
4. Thieves Products
Thieves is an exclusive blend of Clove, Cinnamon Bark, Eucalyptus Radiata, Rosemary, and Lemon Essential oil. Thieves has many benefits and is used in a lot of personal care and home cleaning products. The Thieves spray is perfect to carry in your purse to remove sunscreen and sand off little hands.
5. Ningxia Red
A shot of Young Living's superfood drink each morning will get you through the hot, summer days with plant-based ingredients. It's refreshing and super healthy.
6. LLP
Lemon, Lavender, and Peppermint Essential Oils – the magical seasonal support blend. Diffuse these oils or put them in a roller with coconut oil and apply directly to your skin to get you through allergy season.
7. Chapstick
Keep your lips hydrated and happy with all natural lip balms, like Lavender, Cinnamint, or Grapefruit.
8. Wipes
Mom life requires wipes on hand at all times. Once you try Seedlings Wipes, you'll never go back to any another brand. They are so soft, thick, and you only need one to change a diaper, remove make up, or clean your hands. They are completely biodegradable and non-toxic.
9. Lavender Everything
From Lavender Essential Oil, to Lavender Lotion, to Lavaderm, turn to all things Lavender for skin support this summer. It soothes skin ailments from cuts and bruises, to sunburns and more.
10. Rose Essential Oil
Not only does rose have an amazing, uplifting scent, but it is also great for your skin. Try Rose Ointment for dry or sunburned skin. You will be amazed with the results.